TRAVEL OUTWEIGHS DESTINATION
With the launch of its Mulicity portal, CITROËN established itself as a facilitator of mobility. Today, continuing its research in this field, it is exploring a new area. Drawing upon its expertise and the best "Créative Technologie", CITROËN has developed Tubik, a high-tech executive shuttle based on one key idea: travel should be fun. Come with us on a shared, intelligent, connected and eco-friendly journey!
The design lines of Tubik are a nod to the CITROËN TUB (from the French acronym for low front-wheel drive commercial vehicle) and its ingenious  upgrade, the CITROËN Type H, whose versatility and style made it a best-seller of its times (half a million units in 34 years on the market). Sporting a similar body shape to its illustrious predecessor, Tubik is big enough (2.08m wide, 2.05m tall, 4.80m long) to carry up to nine passengers.
This is the challenge addressed by Tubik, a 9-seater vehicle whose styling and characteristics reflect the prestige cues of a modern saloon. Tubik was inspired by CITROËN's renowned Type H, fondly referred to by the general public as the "TUB" (the name of its predecessor). CITROËN design teams gave Tubik distinctive, offbeat styling, with colours and materials that aim to meet the highest standards in sophistication and comfort.
To make travel enjoyable again, Tubik creates a lounge-style cocoon dedicated to comfort and relaxation. The modular seats, designed to be arranged in many different ways (semi-reclined, face-to-face, etc.), and the onboard technology (including a giant, semi-circular screen, and high-definition spatialised sound) turn the cabin into an area for living and sharing. The journey becomes as important as the destination!
Providing generous space while keeping fuel consumption under control demands an innovative drive train. Hybrid4 technology solves the equation. With this full-hybrid technology and the efforts made to improve aerodynamic design, Tubik maintains CO2 emissions at a level comparable to a conventional saloon.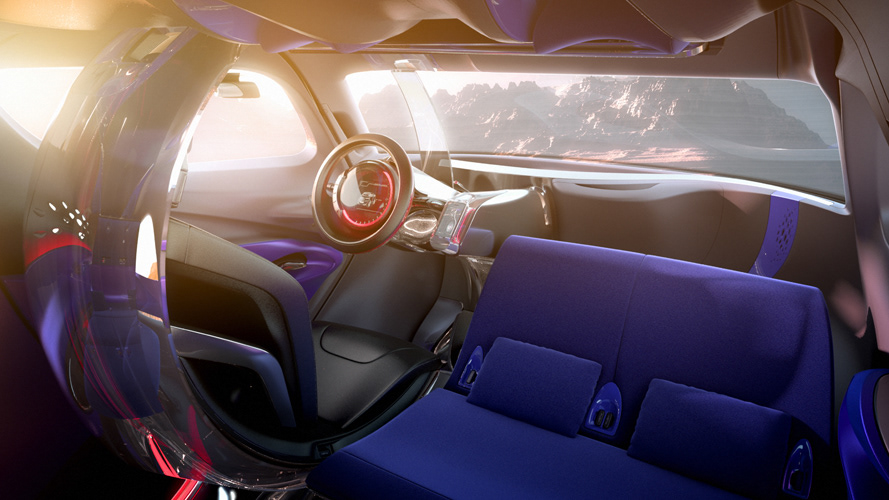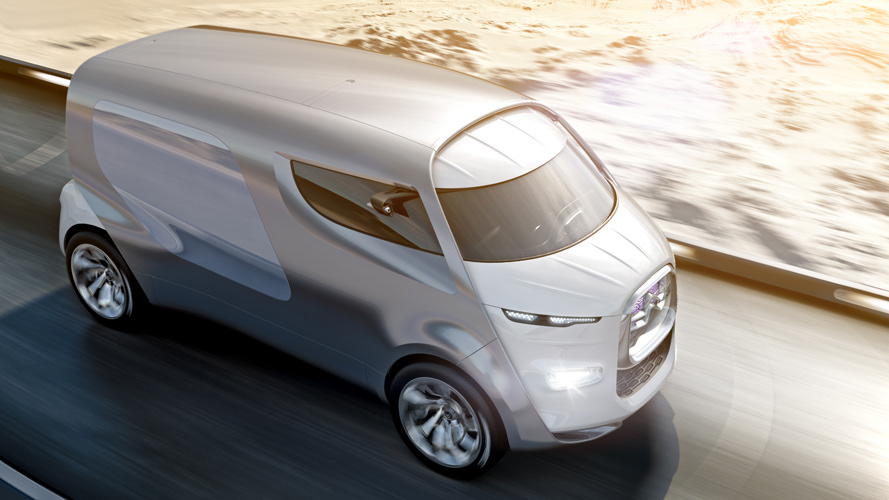 Citroën Tubik
Concept car for IAA Frankfurt 2011
CGI & photographs
Team for the pictures :
Laurent Nivalle : art direction, photographs, postprod, backgrounds ( CGI & Matte painting )
laurentnivalle.fr
Charles-Antoine d'Autichamp : exterior and interior rendering, postprod
dautichamp.com
Allan Morel : woman model ( modelling, texturing, rigging )
sensfx.fr
Guillaume Vasseur : seats modelling and woman rendering
Anne Laborde : graphic design of the pressbook